Library
The College Library has a total collection of about 8000 copies of books, 10 numbers of journals and magazines and 3 numbers of newspapers. It has a reading room provided for the students. The Library has the collections for the following sections:
Reference
North-East
English
Khasi
Economics
Political Science
Education
History
Environmental Studies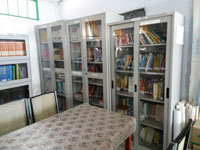 Deputy Librarian
Library Assistant
Library is providing the following services:
All Students are to follow the following rules in Library:
On entering the Library all students should keep their bags, plastic bags, etc. on the rack provided at the entrance. Only books, notebooks, pen are allowed to be carried inside the Library. Students should sign the Library attendance Register everyday.
Those who want to borrow books from Library should register in the Library. For registration, form is available in the Library and will be issued with presentation of Identity Card only.
Each student can borrow only 4 books and may be retained for a period not exceeding 7 days.
A fine of Rs.1/- per day will be charged for each book kept beyond the due date.
Books may be renewed on request with the discretion of the Librarian.
Books lost, defaced or torn in anyway will have to be replaced by the borrower.
Markings or underlines should not be done in the book or its pages
Students cannot borrow any book on other student's card.
Mobile Phones are to be switched of inside Library.
Silence is to be maintained inside the Library.
Keep the Library neat and clean.
Principal, Chairperson
Ms D. Marbaniang, Deputy Librarian, Convener
Ms C. Syngai, HoD, Political Science Department, Member
Shri K.Niangmih, HoD, Khasi Department, Member
Shri A.K.Choudhury,HoD, Economics Department, Member
Smt R.P.Muktieh, HoD, Education Department, Member
Smt T.Sinha, HoD, English Department, Member
Smt C.Swer, HoD, History Department, Member
Shri S.Kharwanlang, HOD, Environmemtal Studies, Member
E-MAIL: sohragovtcollegelibrary[at]gmail[dot]com